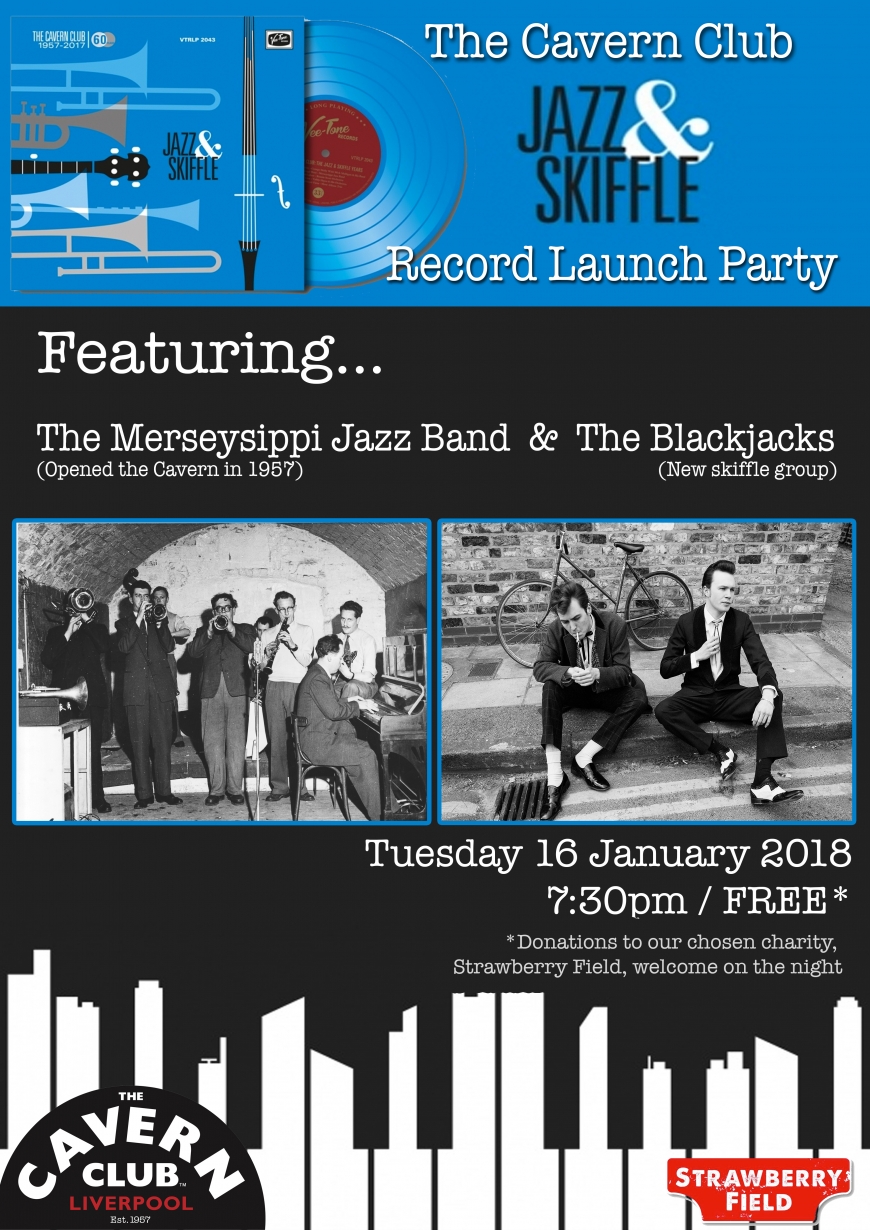 Free
The Cavern Club Live Lounge
2017 was a big year for the Cavern Club – the 60th anniversary of "The Most Famous Club in The World".
On the 16th January 2018, we celebrate our 61st birthday by releasing our final "Anniversary" collector's item. In association with Vee-Tone Records, we are proud to present – "THE CAVERN CLUB – JAZZ & SKIFFLE", a limited edition of 500 individually numbered, blue vinyl, 10" EP. This compilation features ten of the finest jazz and skiffle artists to have graced our famous stage.
The artists featured include jazz giants George Melly, Ronnie Scott and Tubby Hayes and skiffle legends Lonnie Donegan and Chas McDevitt.
When Alan Sytner first opened the Cavern in 1957, it was as a jazz club, although interestingly enough, he did feature the newly emerging sounds of skiffle and the many groups that were cropping up all over Liverpool.
One of these bands, The Quarrymen, became The Beatles and the rest, as they say, is history.
So, what better way to end our anniversary year by literally going back to our roots. One of the bands that played the opening night of the Cavern was Liverpool's own MERSEYSIPPI JAZZ BAND. They feature on the LP with a track from 1957 and are still going strong to this day. They will play a special set for the launch party alongside THE BLACKJACKS, a fantastic, young skiffle duo from York.
Vee-Tone Records will be there to showcase the new album and to display their other releases including "THE CAVERN CLUB – BLUES & RHYTHM" – another limited-edition vinyl compilation we released with them during 2017.
Entrance is free, although a donation to our chosen charity, Strawberry Field, is welcome.
Visit The Blackjacks' Facebook Page!

The Live Lounge is a standing venue with some unreserved seating. Seating is not guaranteed and may not be available for all shows. If you have a disability and need a seat please get in touch with us in advance to make arrangements!
Most events are 18 yrs and over please see our age policy for more information before booking. If you have any questions please get in touch with us.