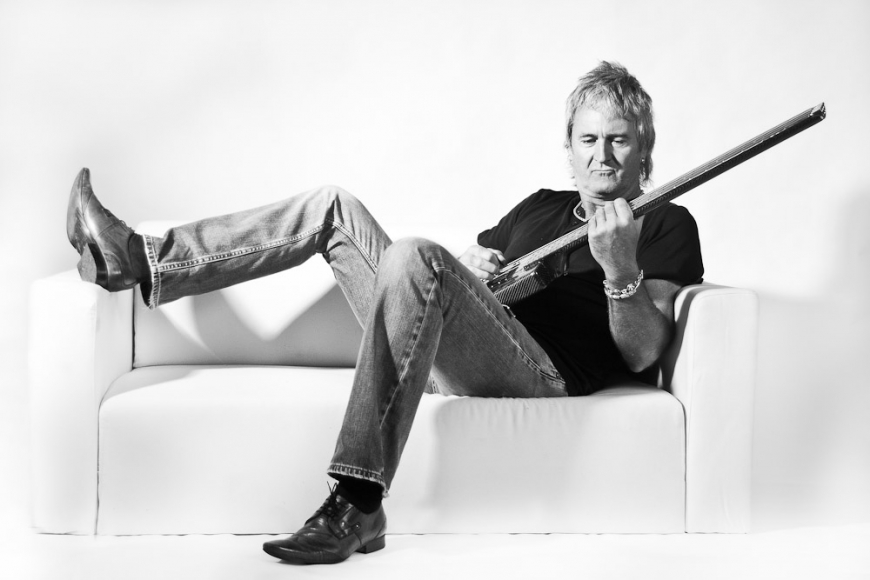 Buy
Tickets
£12
The Cavern Club Live Lounge
Pete Lincoln Live! Followed by a Meet & Greet session, with support from McGoozer
Pete first picked up the guitar at the age of 11, and pretty much hasn't put it down since – having made his career as a singer and musician, both on stage and in the studio.
He spent the 80s and the 90s touring and recording with a wide range of artists including Sir Cliff Richard, Tina Turner, Shakin' Stevens and Dannii Minogue, travelling to all corners of the globe from New Zealand to Greenland.
From 1996 to 2005, Pete enjoyed his time as front man for the 70s band Sailor – most famous for their hits "Glass Of Champagne" & "Girls, Girls, Girls".
In 2005 Pete joined Glam Rockers The Sweet, and is still touring extensively with the band as lead vocalist and bass player. Much of the band's live work is in Europe, particularly in Germany where they still enjoy massive popularity, however they also enjoy success further afield, with regular visits to Australia.
Pete has written songs and instrumental music throughout his career, with some degree of success, having composed for various TV shows and commercials. Credits include Gerry Anderson's 80s Terrahawks series and Top Gear's Jeremy Clarkson's BBC Chat Show, Clarkson. He also wrote all of the music for Clarkson's solo commercial projects throughout the 90s. Pete also co-wrote a ballad for British 90s popsters S Club 7 . . .
In 2013, Pete released a long overdue solo CD entitled 'Soul Searching' and his second solo CD 'Heartbeat' was released in May 2016.
This collection of self-penned songs is very well received, both by Pete's solo fans and Sweet fans alike.
Pete has always enjoyed the challenge of solo live shows, with just guitar and voice, and his international fans have been able to catch him performing tracks from Soul Searching, mixed with some new material plus Sweet & Sailor hits and a few well-chosen covers on his recent solo tour.
VIDEO & INFO LINKS PETE LINCOLN:
Pete online:
Official website: www.petelincoln.com (including video player) Facebook page: www.facebook.com/petelincolnmusic
Twitter page: www.twitter.com/_petelincoln
Instagram page: www.instagram.com/petelincolnmusic
Support from McGoozer:
The words that send a shiver of recognition down your spine. A rush of dopamine. Thousands of hairs standing on end. An emotion recognized and released. Your mind knows what to react to. Your heart knows what connects. It has been said that music feeds the soul, so give it something good to feast on. Give it McGoozer…
With a vocal range that will astound you and lyrics that will remind you of a life well lived, McGoo sings both from the heart and for the heart.  He isn't just a remarkable musician: he is a storyteller, a performer, and an authentic human being who believes that music exists to be experienced and shared.
What you put into your ears does matter, so fill it with music that motivates, invigorates, and resonates. McGoozer makes positive music about universal experiences. They are personal, relatable, and beautiful, creating a soundtrack for your life that's as compelling and complex as you are.
Whether you're craving a sweet melody or a rock anthem you can sink your teeth into, McGoo and his crew have you covered.
In an industry with a lot of noise, listen to music that speaks to you. Your heart has a beat, but if it had a voice, it would sound like McGoozer.
Paul McGee, known widely as McGoo, embraced music from an early age. His siblings had a major impact on his love for music along with the influences that abound in his native Scotland. With his brother Brian being a founding member of Simple Minds and his other brother Owen (AKA Owen Paul) having a UK summer smash in 1986 with "You're My Favourite Waste of Time", it is no surprise that McGoo has spent his entire life immersed in the music industry and yet still feels like this is just the beginning.
His career in music began with "The Official Tribute to the Blues Brothers", where he alternated between playing the parts of both Jake and Elwood Blues as he toured with this theater production. In the three years that he was engaged in this production, McGoo toured Europe twice, toured the UK for a full year and participated in a six-month long residency in London's West End.
These years were extremely important in the fledging years of his own band, McGoozer, as they offered him widespread exposure as well as experiences with which he could base future songs upon.  As his time touring with the "Blues Brothers" production slowed down, he focused on creating his own music and honing his craft into the melodic anthems that his name is becoming synonymous with.
Another early career highlight was recording and touring with Mike and the Mechanics. McGoo sang on their studio album "Rewired" and toured all round Europe as the opening act for Phil Collins on his world tour, performing to festivals and stadiums of over 70 thousand people at a time. "It was truly fantastic to get to work with, and get to know, such musical giants as Mike Rutherford and Paul Carrack", notes McGoo.
McGoo's manager, Steve Shippee of ShipWright Productions, discovered McGoo by accident – an accident they have since recognized was more destiny as their combined, complementary talents have created the perfect foundation from which McGoozer can launch.
"Paul McGee is a singer/songwriter with a vocal range that is reminiscent of Axl Rose and a tone/melody often described as that of a male Adele.  He tells a story with his rock/pop styled music that elicits a feeling of positivity and personal connection.  He can cover the likes of Aha, Ed Sheeran and Taylor Swift with his unique interpretation of their music, however his original tunes are his true works of art." Steve Shippee, CEO of ShipWright Productions
McGoo's passion continues to be funneled primarily through McGoozer where he is constantly inspired and feels some of his best music moments have been born.  McGoo is also regularly sought after to collaborate with other artists as there is an increasing desire for his talents in all aspects of the music industry.
McGoo is currently working on his up-coming album "Songs from the Mirror", due for release later this year.

The Live Lounge is a standing venue with some unreserved seating. Seating is not guaranteed and may not be available for all shows. If you have a disability and need a seat please get in touch with us in advance to make arrangements!
Most events are 18 yrs and over please see our age policy for more information before booking. If you have any questions please get in touch with us.