International Beatleweek
26 August to 1 September 2015
DOWNLOAD YOUR COPY OF 2015 BROCHURE  
ON LINE BOOKING FORM or DOWNLOAD BOOKING FORM 
For general enquiries about the festival please read our FAQs or email [email protected]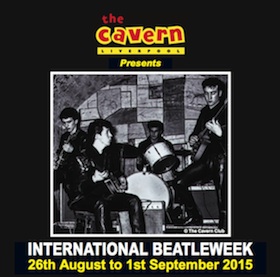 Organised by Liverpool's leading tour operator Cavern City Tours, the annual International Beatleweek Festival celebrates the music of the most famous pop group the world has ever known.
And it all happens in the place where it all began – Liverpool.
There is so much to do and see that you don't need to be a Beatle fan to enjoy the festival, though it probably helps! This is truly an international event with bands from over 20 countries and fans from over 40. Click here to see a map of this years venues
As well as live gigs, there are exhibitions, memorabilia sales, guest speakers, video shows, sightseeing tours and a convention.
Packages include accomodation at a wide choice of city centre hotels and tickets to events.
Check out some 2014 festival highlights HERE Courtesy of International Beatleweek regular Bengt Warmlind from Sweden, you can watch his high definition videos of some of the fabulous shows at this years festival. Thanks Bengt!
sign up for updates            Click to see map of Liverpool IBW venues