Find Us
Three Queens on the Mersey 24 -26 May 2015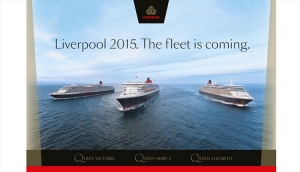 Travel Information from Merseytravel
Thousands of people are expected to flock to both sides of the River Mersey to share in the unique and majestic Three Queens event (24-26 May) to celebrate 175 years of the Cunard shipping line.
The three ships will only be together for a short time on Monday 25 May, but activities will take place across the weekend, meaning it will be an extremely busy three days for transport. This is something to consider if you're planning on seeing the Three Queens, or planning to visit attractions in Liverpool.
If you've got tickets for the Magical Mystery Tour please check your departure point as some tours will leave from the Adelphi Hotel to avoid traffic problems.
An online transport information hub at www.merseytravel.gov.uk offers people options and advice, whether travelling from near or far. If you need further help in planning your journey, call Traveline on 0151 236 7676.  Follow Merseytravel on Twitter, @Merseytravel #3queenstravel
SCHEDULE
Saturday 23 May
10pm – Amazing Graces – state-of-the-art projections on the Three Graces exploring the spirit of Liverpool.
Sunday 24 May
9am – Queen Mary 2 arrives in the city and berths at Liverpool Cruise Liner Terminal. 10pm –Amazing Graces projections. 10.30pm – Firework display.
Monday 25 May
10.45am – Queen Mary 2 leaves the berth to greet her two sisters at Brazil Buoy (on the river between Crosby Beach and New Brighton). 12pm to 2pm – Three Queens meet and sail in formation south towards the Liverpool Echo Arena, and then north along the Mersey. 2.10pm – Queen Mary 2 leaves the city, Queen Elizabeth berths at the Cruise Liner Terminal and Queen Victoria anchors in the middle of the Mersey. 10pm – Amazing Graces projections10.30pm – Firework display,after which Queen Elizabeth leaves the city and Queen Victoria berths at the Cruise Liner Terminal
Tuesday 26 May
4.30pm – A special musical sail-away performance to say goodbye to Queen Victoria 5pm –Queen Victoria sails out of the city.
If you're travelling to Liverpool by coach why not use the National Express Journey Planner