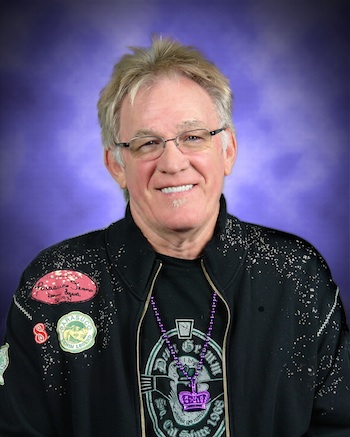 Hi all you Beatlefans, This is Denny Seiwell, the original drummer from Wings. I am so excited about returning to Liverpool again and look forward to meeting all the fans. I did appear at the festival in Liverpool many years ago with my fellow bandmate from Wings, Henry McCullough, and had a great time. We even took the Magical Mystery Tour bus and saw all the historical places and homes of the lads.
I am proud to say that I was the first musician that Paul McCartney chose to make music with after leaving the Beatles. Having been selected to do The "Ram" album which was my introduction to Paul, this working experience then led to the formation of the original band "Wings". During my years with Wings I was part of the first tour, an unannounced 'university tour ' which lasted about two weeks with ten shows. It was just incredible setting out on the road without a place to play, or driving directions, venues, or hotels. We would set out daily, chose a university and drive. We had nothing more than a transit van for the band, wives, kids, dogs, an equipment truck with two roadies and our gear. Paul actually drove the band van most of the time. This was the most fun I have ever had on tour…. many great memories and stories to tell.
Our next tour was the 1972 European tour where we played twenty-eight cities in a much bigger and better fashion. Following that was my last tour with Wings, the 'British tour', playing all of the major cities in Britain and Scotland. By then we had really become a band, and had two albums under our belt and lived like one big family, between our farms in Scotland and our homes in London. It was really fun and beautiful.
Since I left the band in 1973, I went back to my roots as a session man. Not wanting to return to New York, I opted for Los Angeles where my wife Monique and I have been since 1975.
I got a call from Mark Hudson about this trip to Liverpool. He selected musicians that have a very personal experience each having been in a band with A Beatle. Upon the very first rehearsal in New York I knew it would be special. With bandmates like Joey Molland from Badfinger, Earl Slick, from Bowie and Lennon, Gary Van Scyoc from Elephant's Memory, we were on a special trajectory already. Mark Hudson, Ringo's producer, and extreme Beatle guru, is our fearless leader, and chose the tunes we would play, a very select and distinguished group of songs covering Beatle classics, as well as Beatle solo career hits. We hope you like our stories as well, it will be great fun recounting our days with the Fab Four, and play musical tribute to the Lads, those songs we all love so much.
See you in Liverpool!
Denny