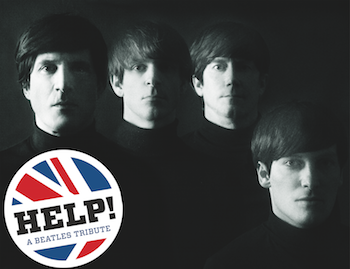 HELP! A Beatles Tribute is one of the most musically faithful bands playing Beatles music today.  With uncanny, note-for-note renditions of Beatles' songs, HELP! will remind you of the lads at their rockin' best. HELP! played c.70 concerts in 2014 in ten countries in Europe, including Germany, Austria, Switzerland, Italy, and Spain, and with their first show in Moscow in May 2015. HELP! was also chosen to play Obertauern, Austria for the 50th anniversary of the Beatles filming the movie, "HELP!" there.
The band includes bassist and lead vocalist Ernie Mendillo, co-founder of the New York band The Brandos. The band achieved commercial success in the U.S. in 1987 with the release of their first album, Honor among Thieves and the single "Gettysburg." They have a strong fan base in Europe, where they have released numerous recordings and have toured since the late 1980s. Mendillo has also worked with Dion DiMucci (Dion & the Belmonts) and Simon Kirke (Free, Bad Company). Fellow New Yorker and co-lead vocalist, Robert McKenzie was the singer, songwriter, and guitarist with The Iodine Raincoats and the Velmas. The line-up is rounded out with lead guitarist Žiga Stanonik and drummer Gašper Oblak. Both are seasoned musicians who have recorded and performed extensively throughout Europe.
In concert, HELP! perform 50+ songs from The Beatles' early days, to their later, more expansive recordings.