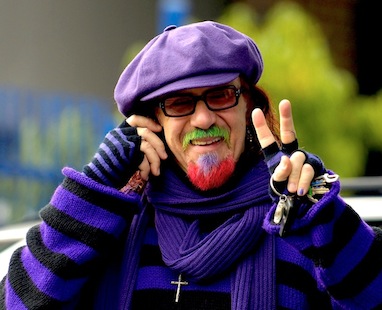 Born in Portland, Oregon, Mark first came on the scene in a band with his brothers, Bill and Brett–the Hudson Brothers.  The Hudson Brothers had two top-20 hits, "So You Are A Star" and "Rendezvous" produced by Bernie Taupin for Elton John's Rocket Records.
The Hudson Brothers were frequent guests on the Sonny and Cher Show and in 1974 became Sonny and Cher's summer replacement.  In 1975 the Hudson Brothers Show evolved into the Hudson Brothers Razzle Dazzle Show, which was one of the first live-action variety shows in the 70s mixing music and comedy.
After the brothers broke up, Mark went on to learn music production and successful songwriting from the legendary Phil Ramone and assisted him with production on Flashdance.  He began to get cuts on albums by artists including Cher, Michael Sembello, Alice Cooper, Eddie Rabbit and Bobby Caldwell.
In 1992, Phil felt Mark was ready to fly solo, and so "Time Takes Time" was the first album Mark worked with Ringo Starr.  He went on to produce 8 albums with Ringo including "Ringorama", "Vertical Man" and "Choose Love", to name a few.  Then, in 1993, Mark wrote the Grammy winning song, "Livin' on the Edge" for Aerosmith, which went to number one worldwide.
Mark has produced and written with and for many multi-platinum artists including Aerosmith, Burt Bacharach, Carole King, Ringo Starr, Ozzy Osbourne, Celine Dion, Jon Bon Jovi, Hanson, the Baja Men, Alice Cooper, Boy Zone, Leann Rimes and the late Harry Nilsson.
Mark was also the vocal director and backup vocalist for artists such as David Cassidy, Wayne Newton, Cher, Alice Cooper, Jon Bon Jovi, Aaron Neville, Hanson, Leif Garrett and more.
In 2005, Mark appeared on the Simon Cowell show, "The X Factor", which also starred Sharon Osbourne.  Mark was the vocal coach known as "Weird Beard" and Sharon's partner for 3 years on the hit series.  During that time, Mark wrote and produced, "It's Chico Time", which went to number one in England.  He also produced Ozzy Osbourne's first number one single titled, "Changes" with Ozzy and Kelly Osbourne.
In 2011, Mark finished filming the second season of "Rock N' Roll Fantasy Camp", a Mark Burnett production on VH1classic in the U.S.  He also recently finished his first solo album, "The Artist", that includes vocalists and musicians such as Steven Tyler, Joe Perry, Ringo Starr, and Harry Nilsson.
In 2011, Mark produced Pete Seeger, Jeff Beck, Seal and Billy Bragg tracks for the critically acclaimed Bob Dylan Tribute Album for Amnesty International.
In 2012, Mark joined the team of IDA—"Inspire and Develop Artists", a school for aspiring new artists with Rudy Perez, Jon Secada and David Frangioni, which develops new artists through songwriting, singing and recording.
Mark just finished writing and producing the new female rock starlet, Madame Mayhem's album, "White Noise" available on iTunes.  She has been described as Joan Jett meets Ozzy Osbourne.  The album includes guest appearances by Earl Slick (John Lennon, David Bowie), Elliot Easton (The Cars), Rudy Sarzo (Ozzy Osbourne, Quiet Riot) and John Moyer (Disturbed, Adrenaline Mob).