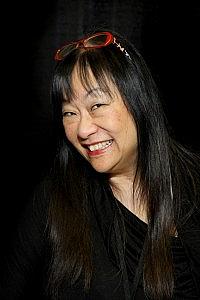 May Pang, world-renowned confidant and companion of John Lennon, has been in the public eye for over three decades.  Her career in the music industry spans 40 years, beginning with Allen Klein's company, ABKCO Industries, the firm which managed the Beatles Apple Corps. Ltd. and the Rolling Stones.
In 1970, Lennon and Yoko Ono hired Pang as their personal assistant. She would eventually become their production coordinator — playing a key role in records by Lennon, Ono and Harry Nilsson. In 1974, Pang was awarded an RIAA Gold Album Award for her work on Lennon's Walls and Bridges, the #1 hit album which included his first and only #1 single in his lifetime, "Whatever Gets You Thru The Night."  She can also be heard singing on "#9 Dream," the second single from the album.
In the late 1970s working for Island Records, Pang coordinated all activities related to the release of albums by Robert Palmer, Third World, and Bob Marley and the Wailers.  By the early 1980s, she was one of the leading professional managers in the music publishing industry, working with several unknown songwriters and successfully obtaining coverage by such artists as Diana Ross, Judas Priest, The Four Tops, Ullanda McCullough and Air Supply.
During this period, Pang decided to set the record straight about her relationship with Lennon.  Warner Books published her memoir, Loving John, in 1983.  The book detailed her liaison and working association with the late Beatle and shed light on his relationships with his first son, Julian, as well as Paul McCartney, Ringo Starr and George Harrison.
During the last two decades, Pang has appeared in every major news and magazine publication worldwide (NY Times, LA Times, Washington Post, The Daily News, UK's Mail On Sunday, Germany's Die Seite Drei, Marie Claire, People, etc.) and has been a guest on such national TV shows as Good Morning America, Howard Stern, Good Morning LA, CBS Sunday Morning and Entertainment Tonight.
Pang has also designed a unique collection of stainless steel Feng Shui jewelry and accent furniture.  She has a weekly internet radio show with co-host Cynthia Neilson called Dinner Specials on BlogTalkRadio. Com. Pang continues her consulting work on music for films and is still an advisory board member of Women In Music. She also serves as an advisory board member, along with Julian Lennon, Jeff Bridges to name a few at the Amazon Conservation Team (ACT) organization.   ACT deals with saving the rainforest and its indigenous people. This was started by world known ethnobotanist Dr. Mark J. Plotkin and conservationist Liliana Madrigal.
In 2008, St. Martin's Press released Instamatic Karma, a collection of Pang's personal photographs of John Lennon.  Fine art prints of these portraits have been exhibited in major galleries across the country.
Also in 2014, she released a book only for the German market called John Lennon & May Pang, Another Love. She had received numerous press coverage in some of Germany's largest newspaper publications.
Pang has lectured and given talks at various events across the country including public libraries and most recently at Berklee College of Music in Boston sponsored in part by the Liberal Arts Dept. While there, she also lectured the John Lennon Songwriting class. She also gave a talk at The Rock & Roll Fantasy Camp in Las Vegas as a Special Guest Speaker.
In this age of "social awareness", Pang was asked to participate as an artist on a CD called: ALL ABOUT BULLIES…BIG AND SMALL. The CD won a Grammy for The Best Children's CD category in 2012.