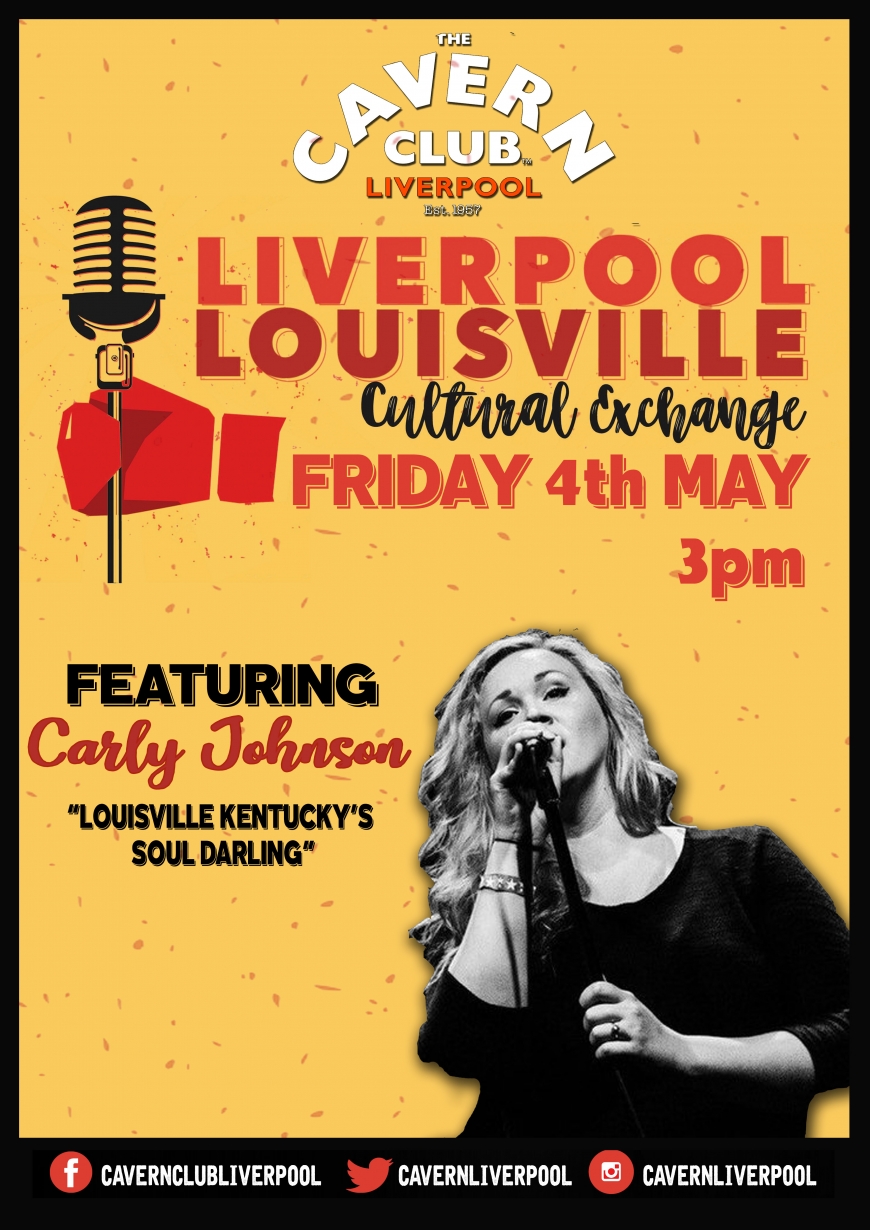 Get
Tickets
General Admission (£2.50) Pay on the Door
The Cavern Club Live Lounge
We are delighted to welcome Louisville artist, Carly Johnson to perform at the Cavern Club. Carly is in Liverpool with her band to play the Sound City Music Festival and will be playing this special show ahead of her festival appearances.
https://www.carlyjohnsonmusic.com
"NEW SINGER CARLY JOHNSON IS A REVELATION—VERSATILE, TUNEFUL, AND WITH AN EMOTIONAL RANGE THAT FLOATS FROM FIRST-PERSON INTIMATE TO BRASSY BELTING WITH THE GREATESTOF EASE." – JACOB DUNCAN LIBERATION PROPHECY
"…THE SORT OF VOICE THAT CAN RILE LISTENERS INTO FIERY ELATION, OR EASE THEM INTO A BLUE VELVET-LINED DREAM." – LARA KINNE LEO WEEKLY
AFTER RECEIVING HER BACHELOR'S DEGREE IN MUSIC FROM THE UNIVERSITY OF THE ARTS IN PHILADELPHIA IN 2007, CARLY RETURNED HOME TO LOUISVILLE AND STARTED PERFORMING AS A JAZZ VOCAL/GUITAR DUO WITH CRITICALLY ACCLAIMED GUITARIST CRAIG WAGNER. THEY RELEASED THEIR FIRST ALBUM "IT'S PRETTY STANDARD" AND IN THE SAME YEAR THE DUO RECEIVED THE 2014 LOUISVILLE MUSIC AWARD FOR JAZZ ARTIST OF THE YEAR.
PLAYING FREQUENTLY AROUND LOUISVILLE'S CLUBS AND INTIMATE VENUES AS A JAZZ DUO, CARLY ALSO BEGAN TO LEND HER VOICE TO LOUISVILLE'S VAST ROCK SCENE. IN 2010, CARLY RECORDED WITH MY MORNING JACKET ON THE TRACK "HOLDING ON TO BLACK METAL" FROM THEIR 2011 GRAMMY NOMINATED ALBUM "CIRCUITAL". SHE ALSO JOINED LOCAL ROCKERS WORKERS TO PERFORM AND RECORD THEIR 2012 DIGITAL & LP RELEASE OF "BOTH HANDS" ON LOUISVILLE'S SONABLAST! RECORDS. ALSO IN 2012, CARLY JOINED THE 7-PIECE JAZZ-FOLK FUSION BAND LIBERATION PROPHECY LED BY SAXOPHONIST JACOB DUNCAN. MAY 2013 SAW THE DEBUT OF LIBERATION PROPHECY'S RECORD "INVISIBLE HOUSE" AND A RELEASE SHOW AT THE LEGENDARY BLUE NOTE JAZZ CLUB IN NYC. ON THE BAND'S WEB SERIES LIBERATION LIVING ROOM, CARLY WAS ABLE TO PERFORM WITH SEVERAL GUEST MUSICIANS, INCLUDING BEN SOLLEE, WILL OLDHAM, RACHEL GRIMES, TYRONE COTTON, AND NORAH JONES. IN 2015, CARLY POOLED HER MUSICAL TALENT AND GROWING LOCAL CELEBRITY TO FORM THE LOUISVILLE-BASED I HEART, HEART TRIBUTE BAND, PLAYING SHOWS TO RAISE FUNDS FOR TRAILBLAZING CHARITIES AND ORGANIZATIONS THAT CONTINUALLY GIVE BACK WITHIN THE LOUISVILLE COMMUNITY AND BEYOND.
SINCE THE BEGINNING, CARLY WANTED TO MAKE HER OWN RECORD. TO WRITE AND SING HER OWN SONGS. IN 2016, IN A DARK CORNER OF LOUISVILLE BAR META, CAME A CHANCE ENCOUNTER. THERE SINGING JAZZ, CARLY'S VOICE HIT PLAYWRIGHT ROLIN JONES' EAR LIKE A LUSH WALL OF SOUND. WITHOUT SKIPPING A BEAT, JONES AND HIS LA-BASED PRODUCTION COMPANY NEW NEIGHBORHOOD JUMPED IN TO PROVIDE SUPPORT FOR CARLY'S FIRST VENTURE INTO ORIGINAL MUSIC.
"EVER SINCE I WAS A LITTLE GIRL…" IS NOT JUST THE OPENING PHRASE OF CARLY JOHNSON'S UPCOMING DEBUT RECORD…THE PATH CARLY CARVED FOR HERSELF HAS BEEN CLEAR FROM THE START. FUSING HER MUSICAL EDUCATION WITH HER LOVE AND REVERENCE FOR ROCK, SOUL, AND POP MUSIC, HER DEBUT SOLO ALBUM "PINK & GOLD" IS THE SUMMATION OF A DREAM. A DREAM FILLED WITH SOUL, WITH JAZZ, WITH R&B. THINK NINA SIMONE CROONING ALONGSIDE VERUCA SALT'S WAILING GUITARS. THINK WHITNEY HOUSTON AND JONI MITCHELL WITH UNWAVERING MOTOWN BACKUP SINGERS AND IN-POCKET PERCUSSION. AND HORNS. THINK ETTA JAMES MEETS MEETS ANN WILSON MEETS AMY WINEHOUSE. THAT THE ALBUM WAS COWRITTEN LONG-DISTANCE WITH CLOSE FRIEND AND COLLEGE ROOMMATE, SAN DIEGO MUSICIAN CHARLOTTE LITTLEHALES, IS A TESTAMENT TO THE DEDICATION AND HUNGER POURED INTO EACH NOTE AND A TRIBUTE TO THE STRONG WOMEN MUSICIANS THAT CAME BEFORE…AND EVER SINCE SHE WAS A LITTLE GIRL, CARLY HAS BEEN WAITING FOR THIS RELEASE.

The Live Lounge is a standing venue with some unreserved seating. Seating is not guaranteed and may not be available for all shows. If you have a disability and need a seat please call us on 0151 236 1965 in advance to make arrangements!
Most events are 18 yrs and over please see our age policy for more information before booking. If you have any questions please get in touch with us.