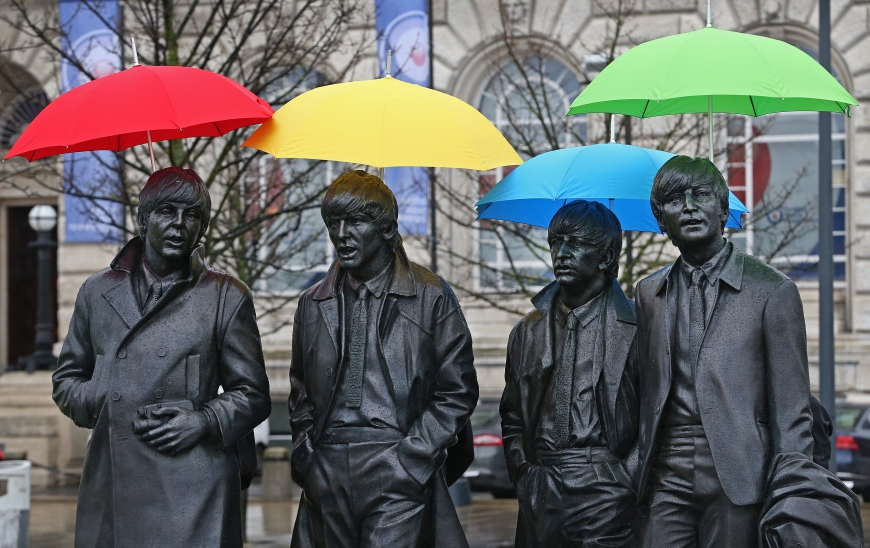 Liverpool: birthplace of the Beatles
..and the city that shaped their early music and lives.
Experience the city that honed the Beatles sound and see the places that inspired their most memorable songs. Here's what you should not miss!
Cavern Club
The Beatles played the Cavern Club nearly 300 times, helping it become the most famous live music venue in the world. The club is located in Mathew Street and is open seven nights a week with a range of live music.  It's also the finishing point of the Magical Mystery Tour – stay and enjoy some live music and a drink after you've seen the sights. Click here for more
Make sure you book your tickets before you leave home for 'Saturday with the Beatles' in the Cavern Live Lounge every Saturday night from January 2012.  The show features one of the Cavern's resident tribute bands who will recreate the sights and the sounds of the 60s and beyond! Click here for tickets
Magical Mystery Tour
Take a guided trip on the psychedelic tour bus, stops include world-famous Beatles sites from Penny Lane to Strawberry Field. Click here for more
Cavern Pub
Located opposite the Cavern Club, this venue has live music every night of the week. The outside wall of the pub displays the names of all the artists who have performed at the Cavern Club from 1957 to the present day.  See if you can spot your favourite!  Click here for more
International Beatleweek Festival
International Beatleweek is the biggest Beatles celebration in the world. This week-long festival runs every August, featuring over 70 bands from across the globe, specialist Beatles events and the annual convention. Read about the festival here
Mathew Street and the Cavern Quarter
This winding part of the city centre is a network of former warehouses and has developed into a mecca for Beatles fans, with a range of bars and shops dedicated to the Fab Four.
The area is home to Liverpool's Wall of Fame which features the name of every Liverpool band or solo artist who has reached Number One in the UK charts.  There are also statues of the Fab Four, including a solo cast of John Lennon leaning against the Cavern Pub wall, several group poses including Arthur Dooley's bronze Four Lads who Shook the World which is located on the wall opposite the Cavern and the wistful figure of Eleanor Rigby sitting on a bench in nearby Stanley Street.
Other Beatles sights
20 Forthlin Road and Mendips
The childhood homes of John Lennon and Paul McCartney have been faithfully restored by the National Trust. You can see the bedroom in Aunt Mimi's house on Menlove Avenue where a young John Lennon first began writing music, and the McCartney family home, where early Beatles rehearsals were held.   Tours to both sites run daily from March to October but advanced booking is essential.  Click here for more 
Beatles Story
The multi-media Beatles Story experience is an atmospheric journey into the life, times, culture and music of the Beatles. The exhibition is on two sites at the Albert Dock and Liverpool's Pier Head.  Click here for more 
Casbah Coffee Club
The Casbah first opened in 1957 when John, Paul and George appeared as the Quarrymen in the basement of a beautiful Victorian house in West Derby, where Mona Best – mother of early Beatles drummer Pete – had opened a coffee-dance club.  Tours should be booked in advance.  Click here for more
Museum of Liverpool
The 'Wondrous Place' gallery in this brand new museum on Liverpool's waterfront celebrates the city's creativity and includes lots of Beatles and Cavern Club memorabilia.  When you go make sure you get a ticket at the information desk for the Beatles show 'In The Town Where I was Born'.  Click here for more
Where to stay
Hard Days Night Hotel
The Hard Days Night Hotel is a Beatles inspired hotel located right around the corner from the world famous Cavern Club. Originally the concept of Cavern City Tours, this hotel features fantastic artwork from Cavern friend and resident artist Shannon.  Click here for more
Adelphi Hotel
The Adelphi has been our home for Beatleweek for over 20 years now. This fabulous Edwardian style Liverpool hotel is a grand building rich in history and perfectly located in the heart of Liverpool city centre. Click here for more